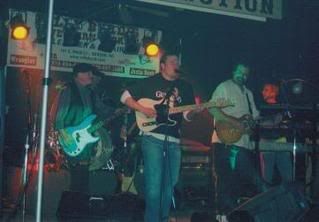 Roy Stewart & "Thick As Thieves" will take to the stage in the next installment of the Town Square Concert Series on Thursday, May 24. It's a free, outdoor concert from 6 pm – 8 pm.
Roy Stewart and Thick as Thieves started their musical journey in 2003. They formed during the winter of 2003 and struck out immediately into the NC club scene. The band started on a strong note but soon lost the wind from its sails when front man, Roy Stewart decided it was time to try his hand in Nashville, Tennessee. After a brief stint in Nashville he soon realized that his heart and soul was still with his newly found project, Thick as Thieves. In 2005, after recovering from a brutal Nashville experience Roy and his band recorded the remainder of an original CD project, YOU CAN'T WIN EM' ALL. Now with CD in hand and a new country rock n' soul format this band is ready to take on the world.
The free concert is sponsored by the Town of Clayton and Downtown Development Association, with major support from Caterpillar, NovoNordisk, Time Warner Cable and Clayton News Star. Additional support comes from Avent-Permenter Group, Clayton Glass & Mirror, Hometowne Realty, Hudson's Hardware, Matthews Motors, McLaurin Funeral Home, Morning Glory Inn, and Trueline Surveying.
The Triangle Brass Band will perform on June 21 as part of the Town Square Concert Series. The Nantucket concert that was rained out on April 19 will be rescheduled for later in the summer.
The Town Square is in downtown Clayton and sits between West Main Street and S. O'Neil and Fayetteville streets. For more information call (919) 553-1545 and for updates check the Downtown Clayton blog at www.downtownclayton.blogspot.com.