Music and fine arts and crafts blend for an exciting day in downtown Clayton with the 7th Annual Millstock: Celebration of Music and Arts Faire on Saturday, June 2 from 10:00 am – 6:00 pm.
Millstock is held at the corner of Lombard and Second streets in the parking lot of the Coffee Mill and The Flipside. Millstock is a showcase for local artists and musicians. This year more than 20 local artists will be displaying their work.
Included in the mix will be vendors, yoga demonstrations and other activities. Among the art displays will be photography, jewelry, pottery, paintings, and stained glass. The newly formed Clayton Historical Association will have a booth and feature tours of the historic B.M. Robertson Mule Barn.
Artist's wishing to exhibit and sell their work must meet certain standards. Clayton Visual Arts, which sponsors the Art Faire, requires that all works must be of original design, and executed by the exhibiting artist or artisan. Application deadline is May 28. For more information on becoming an exhibitor call Bruce Naegelen at (919) 553-1545.
Millstock is a merger of two events. The Clayton Arts Faire began in 1999 as part of the Clayton Harvest Festival and the Millstock Music Festival, which began in 2000. Both were grassroots efforts designed to bring music and art to downtown Clayton. The events merged three years ago to become an exciting downtown experience.
This event has received support from the North Carolina Arts Council, an agency funded by the State of North Carolina and the National Endowment for the Arts. Johnston County Arts Council is the North Carolina Arts Council's Designated County Partner for Johnston County.
11:00 AMMARSHALL STEVENSON & THE BLUEGRASS TRAIN
Marshall Stephenson was born near McGee's Crossroads in Johnston County. Marshall's professional career started with Hack Johnson and the Tennessans who performed on WPTF Radio in Raleigh, NC. Then he went on WDVA Barn Dance in Danville, VA, later joining the Bailey Brothers, former members of the Grand Ole Opry, on WNOX Tennessee Barn Dance in Knoxville, Tennessee. Marshall played with Homer Brierhopper and Clyde Moody on television stations WTVD-Durham, WRAL-Raleigh and WETC-Wilmington, North Carolina, for 10 years making over 2,200 television performances.
12:30 PM
ZYDECOPEOUS

www.zydecopious.com
Their name means "ample amounts of zydeco," and that's what this band promises dancers and listeners alike. Zydecopious offers up not only tunes that zydeco aficionados and dancers have come to know and love (such as "Have Mercy," "I'm Comin' Home," "My YaYa," "Born in the Country," "Midland Two-Step," "Give 'em Cornbread"), but it also plays songs that reflect the heavy R&B-tinged music of Louisiana and the other Gulf Coast states, such as "Baby Please Don't Go," "Diddie-Wah-Diddie," and "Iko-Iko." And always expect some surprises, as some popular hits of the past get the zydeco treatment (remember Peggy Lee's "Fever" from 1958 and Mongo Jerry's "In the Summertime" from 1970?). Zydecopious is the Triangle's only local zydeco band. It includes Clark Aflague on frottoir; Tracy Wiebeck on bass; Mike Davis on guitar; Leo Briere on accordion; Ken Joseph on drums; and Mick Voiland on organ. They all invite you to listen, enjoy, tap your feet, and, most definitely, DANCE!
2:00 PM
VALENTINO & THE PIEDMONT SHEIKS
www.myspace.com/thesheiks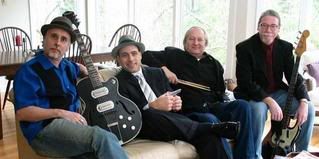 Valentino and the Piedmont Sheiks, based in Raleigh, NC, is the most dynamic vibrant blues band Raleigh has seen in a long time. Their repertoire is steeped in vintage blues and jump numbers that captivates their audience with high energy emotional performances. With over 133 years of combined experience playing the blues between its members, Valentino and the Piedmont Sheiks is a tight unit. They know how to hit you with a down and dirty groove on the slow numbers and really cook on the steaming swing tunes
4:00 PM
KENNEBEC
www.kennebeclive.com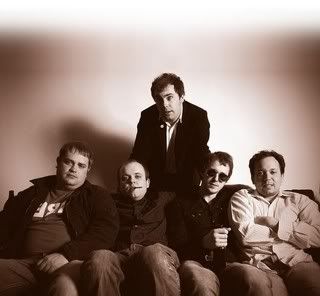 "Its ten past twelve on a weeknight. The Pour House, one of Raleigh's most popular downtown bars, has come to electric life on what is usually a slow evening. On stage, a young man with a black jacket, a kangol cap and a guitar is two-stepping about, howling ruefully one moment, gently intonating the next. These are his songs. The five men behind him are his band. And the music is hot enough to light cigarettes on the other side of the room. Troy Smith is the front man for Kennebec, one of the hottest up-and-coming groups in Raleigh. The band is diverse and expansive: Mike Rosado (drums), Chris Miller (lead guitar), and Jeramy Blackford (vocals). Kennebec plays with the fervor of a charismatic minister conjuring up a hellfire and brimstone sermon. The result: to see Kennebec is to become a true believer." --Nick Bowden (FV Independent )