Last Thursday Roy Stewart & the Thick As Thieves Band took the stage at the Town Square in downtown Clayton and everyone had a blast! The sun was shining (for a change!) and the audience of about 250 people enjoyed the two hour concert.
The next concert is set for June 21 with the Triangle Brass Band.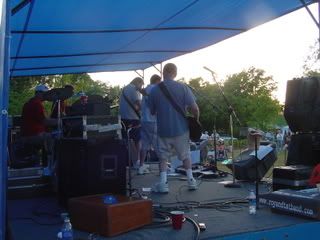 The free concert series is sponsored by the Town of Clayton and Downtown Development Association, with major support from Caterpillar, NovoNordisk, Time Warner Cable and Clayton News Star. Additional support comes from Avent-Permenter Group, Clayton Glass & Mirror, Hometowne Realty, Hudson's Hardware, Matthews Motors, McLaurin Funeral Home, Morning Glory Inn, and Trueline Surveying.