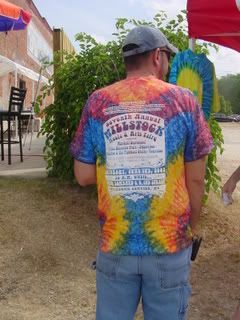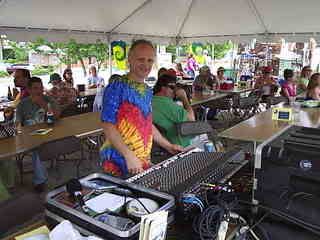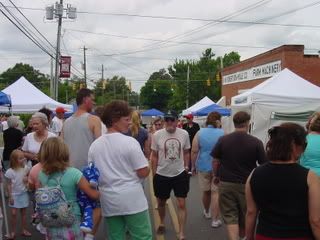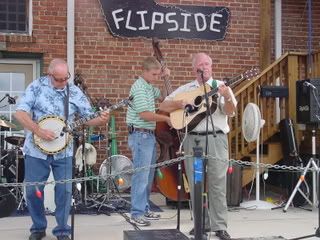 Here's a note from Millstock founders Cliff & Jodi at The Coffee Mill and the Flipside: "Millstock 2007 turned out to be one of the best yet!! The weather was as good as you could ask for (can you believe the rain held off until right at the end of Kennebec's set...way cool!). The art in the street was way cool....the music was top notch!!! (Paul Barton did an amazing job with the sound...again, this year!)
Thanks to Richard Koobs for the artwork for the 7th Annual Millstock logo, poster and t-shirts! He continues to amaze us! Speaking of t-shirts, we're going to place another order early next week, so if you we ran out of your size, color, or design (tie-dye...) then you are still in luck.
Get your order info to us by the end of this week and we'll get you one...or two, etc. (919)550-0174
We want to thank all of the sponsors that contributed something this year, be it bucks, or signage, or promotion. Sponsors include:
Clayton Visual Arts
Clayton Downtown Development Association
Johnston County Arts Council
NC Arts Council
Johnston County Tourism Authority
Matthews Motors
Four Oaks Bank
Fortrex Wire & Cable
Crescent State Bank
BB&T
Please support the Arts and our local businesses. A community's identity is defined by it's support of the arts and local, independently owned businesses! Just what kind of an identity do YOU want? Think about it...
A special thanks goes out to Rambo, Tim, Catharine, Bob, Brian, Dan, Hank, Jack, Zac, Brooke, ET, Nick, Hunter, Daniel, and to Tracy and Sir Ed for all the sweat equity they invested to keep Millstock alive! Thank you!
And a very special thanks goes out to all of you that came and enjoyed!
7th Annual Millstock A Celebration of Music & Art
Thank You!
More Millstock images will be posted soon!!