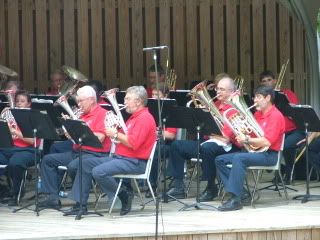 Don't forget to come out to Clayton's Town Square Concert tonight at 6 pm featuring the Triangle Brass Band beginning at 6 pm. It's a beautiful day - bring chairs, blankets and the kids!
Hunger Pains will be selling hot dogs, hamburgers, smoothies and soft drinks; The Clayton Historical Association will be selling homemade ice cream, and for the first time, the Downtown Development Association will be selling beer and wine.
The free concert is sponsored by the Town of Clayton and Downtown Development Association, with major support from:
Caterpillar
NovoNordisk
Time Warner Cable
Clayton News Star
Additional support comes from:
Avent-Permenter Group
Clayton Glass & Mirror
Hometowne Realty
Hudson's Hardware
Matthews Motors
McLaurin Funeral Home
Morning Glory Inn
Trueline Surveying
The Town Square is in downtown Clayton and sits between West Main Street and S. O'Neil and Fayetteville streets.
For more information send an email to bnaegelen@townofclaytonnc.org