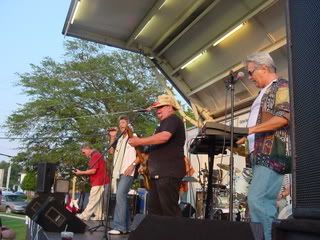 Rock band Nantucket (left) took downtown Clayton by storm with a nearly two-hour performance that was hot, in every sense of the word! The audience of about 750 people was treated to their favorite Nantucket songs, with the loudest cheers when the band launched into their signature song "Heartbreaker".
"Machine Gun" (right) a trio out of Wilmington provided an ideal warmup performance - and they will be playing at
Good Times Cafe & Tavern
on Main Street tonight.