Downtown Clayton finally has a bakery! Petals & Pastries opened this week at 505 E Main St. Now there is a place in Clayton to get freshly baked pies, pastries, baked breads, cakes, cookies…Owned and baked by Jennifer Freeman, Erica Creech, Amanda Brown and Holy Strickland, they will also provide special orders for birthday cakes and so on. Give them a call at 359-9222 or better yet, stop by and sample!
While Petals & Pastries are on the left side, The Pink Teacup is back in business on the right side at 505 E Main St. Owner Christy Cogar re-opened at this new location in the former offices of Hill & Associates on August 8 and has turned them into a lovely setting for a luncheon tea room. Christy has changed her menu into something a little more "hearty" to attract a more masculine clientele, but still focuses on the tea parties and special occasions. She also provides catering for weddings, showers and corporate events. Stop by for lunch and give her a call at 359-9222.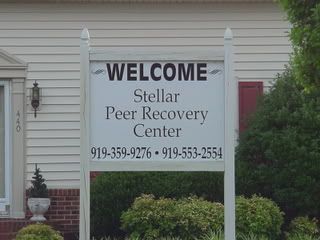 Stellar Peer Recovery Center opened July 1 at 446 E Main Street. The center is a program of Feed His Church Ministries, of which Dorothy O'Neal is founder and pastor. The site serves people who have substance abuse issues. Stellar Peer Recovery Center is open Monday through Friday from 4:00 pm to 8:00 pm. The number is 553-2554.