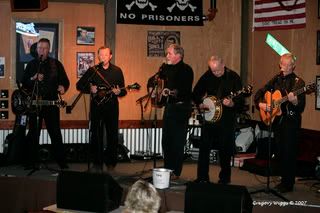 The final concert in the Town Square Concert Series on Thursday, September 20 at 6:00 pm, will feature The Boys From Carolina Bluegrass Band. They've been together since September of 2004 and the band members have over 160 years of combined musical experience. The band plays traditional to contemporary bluegrass music and it prides itself in style and presentation. Every band member sings, which leads to unique harmonics not heard in other bands.
Refreshments will be available, including hot dogs, hamburgers, soft drinks, beer, wine, and home made ice cream! The free concert is sponsored by the Town of Clayton and Downtown Development Association, with major support from Caterpillar, Novo Nordisk and Clayton News Star. Additional support comes from Avent-Permenter Group, Clayton Glass & Mirror, Hometowne Realty, Hudson's Hardware, Matthews Motors, Morning Glory Inn and True Line Surveying.
The Town Square is in downtown Clayton and sits between Main Street and S. O'Neil and Fayetteville streets. For more information call (919) 553-1545 and for updates check the Downtown Clayton blog at www.downtownclayton.blogspot.com.