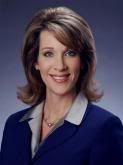 The Downtown Development Association has announced that WRAL-TV news anchor, Lynda Loveland will be a special guest and participant in several activities during the November 29 event. Ms Loveland will announce the Storefront Decoration Contest winners, as well as visit various open houses and enjoy the student performances along Main Street. Along with Mayor Jody McLeod, she will also perform the actual Town Tree Lighting at Town Square at 8:30 pm.
Ms. Loveland has been the morning news anchor at WRAL-TV in Raleigh since 1998. She is a Missouri native and attended college in Texas. She has always been a big sports fan, and loves to play basketball and volleyball when she gets the time. She has also earned a deputy black belt in tae kwon do. She and her husband have three children: Campbell, Caiden and the most recent addition, Carys. She said she is looking forward to being in Clayton, "It sounds like you have a great event planned and I'm excited to be a part of it."
"A Live Christmas Village" will be presented from 6:00 pm – 8:30 pm on November 29and is being organized by the Promotion Committee of the Clayton Downtown Development Association (DDA). Dance and choral performances by local students and the Tree Lighting ceremony will continue to be a main focus of the event.
This event enhances Clayton's traditional Christmas performance and tree lighting ceremony, by bringing the events to downtown's commercial and retail core. The DDA is requesting that Main Street be closed from Smith to O'Neil Street from 6:00 pm to 9:00 pm so a special environment of festivities and activity can be created there.
Performances by specific groups are still being arranged and a celebrity appearance will be announced soon. Activities include:
The Merchant's Open House
Downtown Storefront Decorating Contest
Dance & Choral Performances
Pet Costume Contest & Parade –
Christmas Tree Lighting Ceremony
For more information and schedule updates, visit www.downtownclayton.blogspot.com or call Lyn Austin at 553-4439 or Debbie Hammond at Fancy That Gifts at 550-2946.