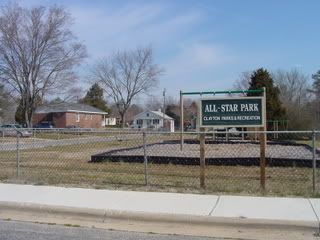 The landscape of All Star Park will become a little fuller with the planting of eight trees at the park on Front Street during Clayton's Arbor Day Tree Planting Ceremony at 3:00 pm on March 16.
Clayton was recently named Tree City USA by the National Arbor Day Foundation to honor its commitment to community forestry.
The event is being organized by the Clayton Downtown Development Association. DDA Chair Joyce Blackley said, "This is a great opportunity to help improve the environment, and provide some future shade for the children and parents who use All Star Park and we hope a lot of folks will turn out for the ceremony."
According to Charlie Yokely, Planner for the Town of Clayton, the eight trees to be planted at All Star Park are five Bald Cypress and three Downy Serviceberries. Six Eastern Redbuds, a Red Maple and a Red Cedar will be planted at Municipal Park on Stallings Street.
The Arbor Day ceremony will begin at 3:00 pm with remarks from local dignitaries and then the planting of the trees will commence with participation from those attending.
Seventh graders Mark and David Germann, will assist Town of Clayton Public Works staff to complete the planting of the other trees. Mark and David are members of the Riverwood Middle School Beta Club.
The public is invited to attend this ceremony and learn more about the program and enjoy the new trees!
For more information, please contact Downtown Development Coordinator, Bruce Naegelen at 553-1545 or bnaegelen@townofclaytonnc.org