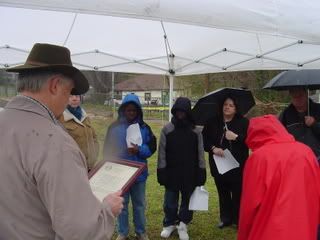 It was a small but interested group that celebrated a rainy and cold Arbor Day at All Star Park on Friday, March 16. Students from Cooper Elementary and Riverwood Middle School attended the ceremony organized by the Downtown Development Association to celebrate the planting of 8 trees at All Star Park on Front Street and 8 trees at Municipal Park on Stallings Street. Town Councilman Michael Grannis read an Arbor Day proclamation as follows:
"Whereas, In 1872, J. Sterling Morton proposed to the Nebraska Board of Agriculture that a special day be set aside for the planting of trees, and;
Whereas, this holiday, called Arbor Day, was first observed with the planting of
more than one million trees in Nebraska, and;
Whereas, Arbor Day is now observed throughout the nation and the world, and;
Whereas, trees can reduce the erosion of our precious topsoil by wind and water, cut heating and cooling costs, moderate the temperature, clean the air, produce life-giving oxygen, and provide habitat for wildlife, and;
Whereas, trees are a renewable resource giving us paper, wood for our homes, fuel
for our fires, and beautify our community, and;
Whereas, trees, wherever they are planted, are a source of joy and spiritual renewal, and;
Whereas, trees soften the urban environment and create a sense of peace and tranquility.
NOW, THEREFORE, LET IT BE PROCLAIMED by the Town of Clayton that March 16, 2007, be recognized as "Arbor Day" and I urge all citizens to celebrate Arbor Day and to support efforts to protect our trees and woodlands, and I urge all citizens to plant trees to gladden the heart and promote the well-being of this and future generations."
Following the remarks, arborist John Sugg told the group about the benefits of trees and, in the rain, showed the students how to plant a tree. Due to the weather, the students didn't have much opportunity to actually plant the trees, but did take turns shoveling some of the dirt around one of the trees.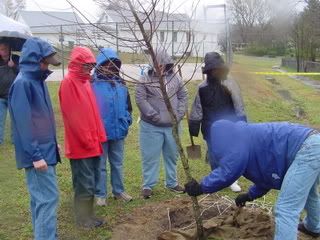 In attendance were students: Anthony Carswell and brothers Mark and David Germann of Riverwood Middle School; Brook Boatright and Steven Carswell of Cooper Elementary School. 5th grade teacher Susanna Hamilton from Cooper School and parents Donna Boatright and Sandy Germann. DDA member Ed Knight and his wife, Veda also were in attendance. Pastor Lacy Simpson of First Missionary Baptist Church had been scheduled to make remarks, but an emergency out of state kept him from attending and Pastor Frank Saunders of St Augustine African Methodist Church sent remarks of his support for the planting project, but was out of town due to a previously scheduled meeting.